Novatis Group - Al Jeesr chooses Amaco as a partner
Novatis Group - AL Jeesr - Morocco

chooses

Amaco as a partner
AMACO GROUP, the leading manufacturers of various types of tissue paper converting machines, is seeking to develop the worldwide market in collaboration with Novatis Group – Al Jeesr Company located in Morocco.
The contract was signed between the two companies in the last quarter of 2015, and involves the installation of a Full Automatic Facial Tissue line. The production line consists of Inter-Folder Tissue Paper Machine connected automatically with Automatic Orbital Facial Log saw, Automatic flexible soft Nylon Wrapping machine & Duplex Carton Packing machine.
AMACO has been able to take advantage of all the technological developments in the field of Hygienic Tissue Paper Industry where include every potential to produce high-quality technology and precision machines.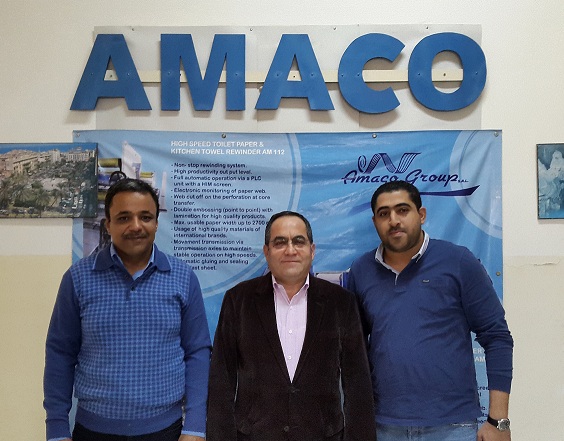 And since AMACO GROUP considered its customers as Partners, the group has undertaken to install the line and keep pace with new partners during their production period to provide them with all the required technical services.
Mr. Ali El Abdallah, chairman of AMACO GROUP, stated that the new production line would allow Novatis Group to diversify its products thus achieving its objectives. He also stressed that this contract is a new achievement added to AMACO Group record of accomplishments. The Group was able to market its products in the Arab and the European countries. Al Abdallah wished Novatis Group and to its subsidiary company 'Al Jisr' all the best especially with its decision to deal with AMACO Group.
He added, "AMACO Group has proved its ability to play a key role in tissue paper machinery field. During the past years, we worked on preserving and consolidating our position, and thus have been able to compete in the most difficult and developed markets. The added value that the Lebanese industrial sector offers, which has enabled it to compete internationally is due to two factors: its rich cultural and civilized background, and its ability to build relationships and to understand the demands of businesses all over the world. The second factor is its high professionalism and its ability to keep up with the technological revolution concerning this field of industry."
AMACO group is working so hard to preserve its working system which encompasses providing the industrial machines as well as the after-sale services, in addition to providing the spare parts and training to use these machines. Such a working system in the field of industrial machines is considered the only way that allows customers to achieve sustainable relationships and success.